Francis Kohn
Evangelisation and serving the Church
Pierre's profound love for the Church drew him to serve her during various periods in his life, and his service took the form of making evangelisation a priority. This teaching is about evangelisation and service, which I will develop in two distinct parts.
-I) Evangelisation had always been a priority for Pierre Goursat
Well before founding the Emmanuel Community, Pierre Goursat sought to evangelise, acting at the heart of French society, which at the time had become largely unchristian. Pierre suffered intensely, knowing that the Church had lost its sense mission. For his whole life his heart urged him to confront the questions of the contemporary world with Church teaching. In Pierre's eyes faith should be contagious and evangelisation its priority.
-1) The intense increase in activity concerning evangelisation, after 1945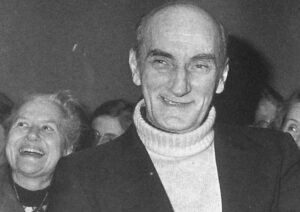 Pierre orientated himself towards the work of evangelisation, diving into the new missionary initiatives being born in France during WWII and after the country's liberation.
In 1949, Pierre decided to sell the family guesthouse he had inherited after the death of his mother in 1941, and from then on, consecrate himself entirely to the work of evangelisation. He moved-in to an apartment belonging to the presbytery of the parish of Saint-Philippe du Roule, and stayed there until 1947.
Pierre had this desire to make the Gospel known, and to ensure religious books were made widely available. In 1945, while still running the guesthouse, he worked in parallel on creating a religious library, and then in 1946, an association for editing Catholic books. He had contacts with the Gospel League, whose head office was situated right next to the bookshop he ran. After Mass on Sundays, lay people would give out little copies of the Gospels for free to parishioners outside the Church. It was here that Pierre Goursat met Fr. Thivollier, who, after serving as vicar for the parish of Petit-Colombes become an itinerant missionary. In 1946, Pierre collaborated with Fr. Jean Laisney in the publication of a special edition of the four Gospels in one.
In 1925, Abbot Cardjin founded Young Christian workers (JOC) in Belgium, which Abbot Guérin subsequently introduced in France in 1927. Between 1930 and 1940, his cousin, Abbot Jacques Goursat, together with Fr. Caffarel, who Pierre met through him, became chaplains for the JOC. Pierre liked the spiritual and missionary elements motivating young members in the group's early days, especially when the majority of Christians he came across seemed little concerned with announcing the Gospel. He says, on the subject:
"Both during and after the war, I didn't participate in any conversion movement, around me in Paris. The Catholics I knew didn't really have a sense of the apostolate, or of evangelisation. The only ones I knew of with a desire for it, were the members of J.O.C. but elsewhere there was nothing" […][1].
Published by Abbot Henri Godin and Yvan Daniel in 1943, a book entitled Is France a missionary country? made a big impression on Pierre when he read it. He was also touched by the pastoral innovations Abbot Georges Michonneau was putting into place at his parish, the Petit-Colombes, situated in a suburb of Paris. He was experimenting with new initiatives in reaching people from working class backgrounds, and those who were far from the Church.
On the 25th of October 1946, Pierre Goursat was named a member of the Directing Committee for the Catholic Centre of French Intellectuals, created at the initiative of Cardinal Suhard. He was given the more specific job of the Centre's publishing and documentation. Pierre was also in charge of circulating two reviews in France; the International Cinematic Review published each trimester in Brussels for the International Catholic Cinema Office, and the Scientific Questions Review, in which great minds could present their work and reflections on diverse scientific topics. Pierre Goursat was very interested in the relationship between faith and science, and was passionate about his work.
Pierre was passionate about his activities but noticed that the intellectual world, having been so alive between the wars, had lost its rejuvenating force. He left the Directing Committee for the Catholic Centre of French Intellectuals in 1951. He wanted to evangelise more widely, going beyond the Parisian intelligentsia.
Thanks to the experience gained through this, and through encounters he had during WWII and the years following the Liberation of France, Pierre Goursat now knew he was being called to be a 'lay apostle'. In contact with Cardinal Suhard, he discovered new perspectives which would reorientate his whole life. The big pastoral questions faced by the Church during this period became the guiding theme of all his commitments and missionary intuitions. Pierre decided at this point to put his talents and his evangelistic zeal in service of the Church, looking to reach a greater number of people through art and culture, and in particular, cinema. Later he explains to us:
"I said to myself: "The more universal the good, the more it is divine". Saint Ignatius of Loyola said this. So I said: "Instead of converting three or four people, it would be better to look into audio-visual, like that, by talking I could convert one hundred thousand". And so from then on I thought of all the existing ways of using audio-visuals and I tried to get printed in art or cinema publications, and to take on debates concerning thesis films"[2].
Pierre Goursat was also struck by the Legion of Mary whom he came across in Nevers when they first came to France in 1940. What spoke to him most, was their missionary education and their focus on the accompanying of individuals. In the 1950s, Pierre went to a "præsidium" run by the Legion of Mary which met in the Dominican Convent near by where he lived. Moments of street evangelisation, going out two by two, made a big impression on him. Pierre took inspiration from certain practices in the Legion of Mary, for example the "evangelisation booklet", which he proposed to members of the Emmanuel Community later. Pierre met Dominican priest Fr. Raymond Pichard through the Legion of Mary. Fr. Pichard was the first to televise a Christmas Mass, in France, celebrated in the cathedral of Notre-Dame in Paris, in 1948. On the 9th of October 1949, he launched the television programme, "The Day of the Lord", which aired live on Sunday mornings. This was a decisive experience for Pierre Goursat, who now chose to orientate himself towards cinema, as a means to evangelise the greatest number of people he could.
Pierre chose cinema as the privileged field for apostleship; he saw its capacity for education, when as yet the Catholic world had not cottoned-on to its importance. Pierre was prophetic. He could see far ahead and wanted to lift old prejudices which existed in France against the artist and artistic expression in general, by seeking a reconciliation between cinema and religion.
In 1951, Pierre Goursat founded the association The French Cinema Circle, which organised festivals and balls in order to project films to a wider public, hosting debates with famous personalities, often well-known actors and directors. In 1960, he was named Secretary General to the French Catholic Cinema Office, whose job it was to attach an artistic and moral significance to all of the films that came out in France. The commentaries were displayed in Churches and diffused to the press, in their millions. Pierre was in touch with cinematic professionals, in a world which was often indifferent if not hostile towards the Church. Pierre met with the big names in cinema: producers, directors and actors. He formed friendships with a number of them, who were for the most part non-believers. He gave advice to directors with great delicacy, convincing them to take out certain scenes from their films which he judged to be immoral. During this period he travelled a lot as a member of the jury of the Catholic International Cinema Organisation, which was tasked with conferring a prize each year, and attended the Cannes and Venice film festivals time and again.
Pierre was passionate about his work, to which he consecrated all his time and energy.
However, at this point in its history, the cinematic world was becoming increasingly influenced by ideological and financial agendas. Sensitive to the changing situation, Pierre anticipated the dramatic undermining of values. He saw how certain groups put pressure on introducing eroticism and pornography into cinema, breaking fundamental family values. The moral position of the Church was getting in their way and they looked to weaken its influence. The terrible business concerning Jacques Rivette's film La religieuse, marked a turning point. The film was adapted from a heretical and diabolical novel written by Diderot. Pierre, among others, sought to react strongly against the film, sensing that if it were to be projected in theatres, it would leave the door wide open to numerous similar examples. Initially forbidden for release, by the secretary for the State of Information, in March 1966, the film was eventually authorised for release in 1967. Pierre got involved in the debate but realised he was not given much support from Church authorities, and that he really wasn't left with much freedom of initiative in his work anymore. While attending the Cannes film festival in 1968 Pierre Goursat witnessed a conversation between big producers putting together a plan to progressively introduce pornography and homosexuality into cinema. Within the changes of the cinematic world, he identified warning signs of a larger crisis which would shake the whole of French society and other countries around the world, in May 1968.
It was in 1970, and with a heavy heart, that Pierre left the French Catholic Cinema Office. It was a painful ordeal for him, a time of desert and purification. In 1971, he bought an old canalboat which he moored on the Seine, the idea was to use it as a place to inform youth on the dangers of drugs, which had just arrived on the scene and exploded in high schools. But God was preparing him for a mission he, as yet, knew nothing about.
In February of 1972, Pierre Goursat received the outpouring of the Holy Spirit which intensified the missionary ardour present in him since he was young. He writes this to a priest he was close to:
"For me, "baptism in the Spirit" was the confirmation I needed, late in life, to throw myself into announcing Jesus to the world"[3]. Pierre responded to the Lord's call to his disciples: "As the Father has sent me, so I send you" (Jn. 20:21).
The Community was born during a period of history where French society had already become secularised, causing a lot of people to lose their faith. These years were also marked by a religious crisis which tore through the Church in France (numerous priests and religious getting married, a crisis of authority, liturgical abuses…). A militant road of action was taken, a pastoral landfill, to the direct detriment of the idea of witnessing to your personal faith. Pierre was acutely aware of the urgent need to evangelise and conscious of his desire to witness to his faith in a now pagan world, where so many ignored anything to do with God. Just as we hear Christ saying to his disciples: "The harvest is plentiful, but the laborers are few" (Mt. 9:37).
-2) Evangelising boldly, with the power of the Holy Spirit
When announcing Vatican II, John XXIII said: the council "will be like a new Pentecost where apostolic energies and Church missionaries will be rejuvenated to the full extent of the Church's mission and youthful ardour"[4]. Vatican II underscored the missionary dimension of the Church and reminded us that, in baptism, we are all called to be missionaries.
Pierre Goursat's missionary intuitions were comforted by the apostolic exhortation Evangelii Nuntiandi published by Paul VI in 1975. In it, he reminds us how evangelisation constitutes the "essential mission" of the Church. It is "the grace and vocation proper" of the Church, and "her deepest identity" (n° 14). He highlights also that mission "is not an optional contribution" (n° 5) reserved for specialists, but a necessity which includes all the baptised, because the salvation of souls is at stake! A Christian who is not missionary is not being faithful to his vocation!
As outlined in my teaching on the Holy Spirit, Pentecost marks the beginning of the Church's missionary action, the announcing of the Good News, which henceforth would set fire to the whole world "to the ends of the earth" (Acts 1:8). On the day of Pentecost, the apostles are liberated from fears which paralyse them. They are instantly "released" and so start giving witness boldly (cf. Acts 2:29, 4:13, 4:29. 31): "With great power the apostles gave their testimony to the resurrection of the Lord Jesus" (Acts 4:33). These "uneducated and ordinary men" (cf. Acts 4:13), spoke with an authority and a conviction, which touched hearts. Nothing could stop them from bearing witness, replying to their persecutors: "For we cannot keep from speaking about what we have seen and heard." (Acts 4:20).
What the Holy Spirit has done for the first Christians, he will continue to do for us today! We too have received a spirit of strength to evangelise with power.
The Greek term "dynamis", used in the Acts of the Apostles, to mean "power", highlights the fact that the Holy Spirit is the supernatural force giving spiritual "dynamism" to the Church and to each Christian. It is the Holy Spirit who, with Christ, enables us to evangelise. He sparks a fervour in us, and lights the fire of love, giving us the strength to testify and making all our missionary projects fruitful. He guides us to those to whom we should announce the Good News, giving us just and powerful words to use when we speak with them. The Holy Spirit works in the heart of both the person evangelising and the person speaking with them.
Pierre Goursat exhorts us in this manner: "Now that Pentecost has come, we can stop staring at our own belly-buttons, and let ourselves catch on fire with love. And then we must seek out our brothers and sisters"[5]. Speaking about the beginnings of the Charismatic Renewal among the Catholics in the United States, he tells us:
"The students from Duquesne prayed so hard for Pentecost to come, and with a certitude that if they prayed to the Holy Spirit we would be sure to receive him, […] that Pentecost fell in their laps and it was extraordinary. And so it spread everywhere. But in order for it to continue spreading, we have to announce it […]. And we have to announce the Lord, for we have received a spirit of Pentecost, a spirit of power and of boldness"[6].
Pierre writes:
"God's love sets fire to our souls so we may carry it to others. It's all comes from the Spirit of Pentecost: an outpouring of the Spirit which must continue until the great event of our only Lord, Master and Friend"[7]. Also saying: "We have to announce God's love to the world. His love is overlooked, disregarded. We have to announce it"[8].
-3) Pierre Goursat proved to have a surprising audacity for mission
We are reminded by Pierre that we are not in a community to stay drinking tea on the sofa together but are called to be on mission. He was convinced the Lord had raised the Community so it could evangelise the world; we mustn't stay "safe and warm" at home, keeping things amongst ourselves. But, allowing ourselves to be enflamed with the fire of the Holy Spirit, we can transmit it to others, everywhere we are sent to.
He firmly insists:
"The spirit of Pentecost is not given to us so we can make little communities to live in quietly, amongst ourselves. It's so we might become aware of this fire [which he came to kindle on the Earth] and having given it to the few, it continues by itself. It's like trying to light a little candle. We try to light it, and it never lights. Once it's been lit, it continues to burn by itself. This is what the Lord wants to do."[9].
Pierre was forever urging us to evangelise, saying: "If we stay safe and warm in our communities, we'll rot in our communities"[10].  He thought that mission was at the heart of the Emmanuel Community's vocation, quoting St. Paul's words often: " If I proclaim the gospel, this gives me no ground for boasting, for an obligation is laid on me, and woe to me if I do not proclaim the gospel!" (1 Cor. 9:16). Being conscious of our own limitations and incompetence mustn't be used as an alibi for not announcing the Good News. He says: "I am a useless servant, but I must evangelise!"[11]. He confirms:
"The apostles didn't wait to be perfect before announcing Jesus. He is sending us out to our brothers and sisters". Adding: "By loving Jesus in our brothers and sisters, we are evangelised ourselves, because the Spirit is in us, and so we are the first ones to be converted."[12].
 Pierre insists that when evangelising, we ourselves are the first to be evangelised: "Not only is it up to us to evangelise others, but in doing so we are evangelised ourselves. We are transformed, filled with the Lord; he can be found in our mouth, he can be found in our heart, and we are transformed"[13]. When we witness how the people we evangelise, open up to God, we experience a huge joy, which consoles our faith, stirring up the desire to be attentive to the hopes and needs of those we meet every day. Pierre says: "When you evangelise others, you're the one who comes back evangelised. Your heart is wide open, you witness the suffering and hunger for the Lord in the people on the street who don't know anything. You are left with only one desire, to evangelise"[14]. Despite limited physical force Pierre never tried to conserve his strength, always putting an enormous energy into evangelisation, displaying unbreakable faith and a surprising missionary audacity in creating new and original initiatives. He was incredibly creative, always thinking about the next project the Lord had inspired in him, which he would mature in prayer.
For Pierre, mission was not limited by boundaries and could take diverse forms. Pierre wanted to re-Christianise the countryside, the masses, go out to the periphery of society, destitute suburbs, and 'travelling communities'. Cardinal Suenens spoke posthumously about Pierre Goursat's "zeal for evangelisation which made him break through any category of person to aim at all social classes"[15].
Pierre Goursat was a precursor and an important actor in the "new evangelisation" established by John-Paul II. He created foundations and launched numerous initiatives to evangelise those who were furthest from faith and the Church. It was in this way he launched the magazine He is alive! in 1974; and Fidesco, a missionary organisation in service of the third world, in 1981; as well as varying apostolic foundations for supporting and evangelising young people, couples and families, the professional world, the education system, and culture. Pierre focused on people who were searching for God; he spoke to them all about the Lord, whether they were members of his family, young people, or renowned intellectuals, like Maurice Clavel. Pierre had a central role in his conversion.
Pierre developed activities like "street evangelisation", at a time when it wasn't practiced by Catholics at all. But he also highlighted the importance of bearing witness in your normal life, through the personal relationships built with the people around you. He explains: "Today, we must be able to announce Jesus more and more. And announcing Jesus isn't just for the streets, but for your place of work, and everywhere"[16].
From the very beginning of the Charismatic Renewal, Pierre understood that offering concrete training and formation in evangelisation was essential. In 1973 and 1974, he organised formation weekends in Paris, to which members of all the different Emmanuel prayer groups were invited. Along similar lines, in December 1979, he founded the International John-Paul II Centre, using the first encyclical, freshly published by the Pope, Redemptor hominis as its guiding text. Pierre carefully chose the speakers and teachers for the centre, so as to be sure of generating a profoundly ecclesial place of learning. He called up Biblicists and Theologians known for giving public evening lectures in Paris. In 1984, he founded the International School of formation and evangelisation, open to young people wanting to consecrate a year of their lives to mission, as well as the Samuel Centre which offered formation to catechists.
In his encyclical letter Redemptoris Missio, published three months before Pierre's death, John-Paul II explains how the Holy Spirit is the principal actor in this great missionary adventure which has been going on for more than two thousand years, and which, he says: "Is far from over" (n° 1). He also writes: "Faith grows through sharing it" (n° 2). Even though he was very tired at this point, Pierre read the text carefully and highlighted numerous passages in it. He rejoiced because he saw in it what he had felt in the missionary intuitions he received earlier in his life and had sought to bring to life, particularly with the Community.
Even after having passed on his position as Moderator of the Community in 1985, Pierre Goursat continued to attend council meetings in a discrete capacity, speaking very little and commenting on the rare occasion. During one of the last council meetings Pierre attended, we were addressing the subject of consecrated sisters. It seemed like Pierre had fallen asleep. Suddenly, he lifted his head, saying: "Mission, mission, mission." Then let his head fall back on his chest. These were some of the last words he spoke in public, like leaving a spiritual testament. The members of the council understood that Pierre had said something essential concerning the members of the entire Community.
-II) Loving and serving the Church
-1) The desire to ground the Charismatic Renewal in Catholic Tradition
Pierre Goursat discovered the beauty of the Catholic Church after meeting Abbot Lécailler in Assy, after his conversion in 1933, and from this moment on he developed a deep love for the Church. During the following years, Pierre became acutely conscious of the gravity of the crisis tearing through the Church, but, always keeping a hopeful outlook, he was convinced the Holy Spirit would guide her unfailingly. In an article he wrote for He Is Alive! Pierre compared prayer groups from the Charismatic Renewal, which were born out of the spontaneity of the Holy Spirit and consisted of little structure, to the Begging Orders which developed in the XIII Century, preaching poverty[17].
Pierre sought to help prayer groups and "new communities" to anchor themselves deeply in the Catholic Church, at a time when the Renewal was still strongly marked by its Pentecostal origins. Pierre worked towards its integration into the heart of the Church, by rooting it in Catholic Tradition through Holy Doctrine, liturgical beauty and sacramental life. He reminds us:
"The Lord made us grow from the heart of his Church, and so we will fortify ourselves with what is essential to the Church: the Eucharist"[18].
Pierre Goursat was convinced the Renewal would help the Catholic church be more open to the Holy Spirit and become "more charismatic". For Pierre, the Emmanuel Community was not an end in itself, but a way of serving the whole Church.  As a member of the laity, he worked for her renewal, and was behind a new form of ecclesial life; both inspired by the Holy Spirit and profoundly rooted in centuries old Church Tradition.
Quoting St. Irénée of Lyon, he writes:
"The Renewal is ecclesial because Christ builds the Church with the Holy Spirit. "Where the Church is, there is found the Spirit; and where the Spirit of God is, there is found the Church""[19].
Pierre ardently desired unity in the Church, a unity which expresses itself within the diversity of vocations and charisms. He found himself, on occasion, opposing the widespread idea in the Charismatic Renewal, which reduced unity to uniformity. He supported instead a rigorous form of ecumenism, one which respects individual identities of groups and doesn't erase the existing differences between various Christian confessions:
"The first thing you need to do in ecumenism, he says, is to love your Church. And then to love your protestant brothers and sisters. And to feel suffering because of the division. You have to put love before everything else. To truly have compassion"[20].
-2) Deep attachment to the Church and obedience to the bishops
As moderator of the Emmanuel Community, Pierre raised up a generation of lay people, well formed on both a spiritual and doctrinal level, moved by a great love for the Church. He says:
"There is not a single person amongst us, who after having had a conversion thanks to Emmanuel will say: "I have found Jesus, but I don't want to join the Church". Not one of us has said this because by discovering Jesus we discover the Church from the inside, the holy and immaculate Church, the bride of Christ"[21].
Pierre never criticised the Church. He had a deep attachment to her pastors and faithfulness to the Magisterium. He says:
"When we obey the Church, we own all the treasures of the Church. Through obedience, (we benefit from) all the prayers of the Church, all the people who pray and suffer day and night for souls"[22].
I will now give you two examples symbolic of Pierre's obedience to the bishops. From the year 1979 onwards, Pierre regularly invited the Canadian priest Fr. Émilien Tardif to attend meetings of the Charismatic Renewal in Lourdes and Paray-le-Monial. The priest was on mission at Saint-Domingue, and exercised a healing ministry, using the charism of "words of knowledge". After one particular visit to a prayer assembly in September 1984, in the Church of St. Francis Xavier in Paris, Cardinal Lustiger wrote to Pierre Goursat to ask him that future healing prayer ministries be carried out separately to the celebration of the Eucharist. Pierre accepted his decision without hesitation. He invited Fr. Tardif to come once again to Paris in September 1985, informing the archbishop of Paris that he would follow what had been asked of him concerning the prayer vigil.
The second example is as follows: in 1982, Cardinal Suenens, who was named international counsellor for the Renewal firstly by Paul VI, then by John-Paul II, asked prayer groups and communities of the Renewal to suspend the use of deliverance prayers. Pierre Goursat adhered to these new recommendations without delay.
Pierre Goursat was obedient to Church pastors, whilst retaining great independence of spirit. He had the art of manoeuvring around obstacles. He would often quote the Gospel verse: "be wise as serpents and innocent as doves" (Mt. 10:16). Explaining that "wise" meant "cunning", and "innocent" did not mean "naive"! He insisted on the point that we had to use "battle tactics" at times, because we are confronted with a spiritual combat, adding: "As old Satan is quite cunning himself, we must be even more cunning than him"[23]. Pierre also highlighted the order in which Jesus used the words, noticing how he says "be wise" first, suggesting if we are "simple-minded" before "cunning", without using our intelligence or prudence, it's sure and certain that the little dove we are, will be eaten up in one bite by the snake!
-3) Pierre Goursat took great care in promoting priestly vocations
Among the great numbers of young people who attended prayer groups animated by the Community in Paris in its early years, many rediscovered their faith and developed a thirst for prayer and spirituality. Some of them received calls to the priesthood, but didn't know where to turn to for priestly formation as there was a serious crisis in seminaries, whose teaching was marked by an ideology of over-simplification.
Pierre Goursat strongly believed that priests, who were often isolated, were in desperate need of a strong spiritual and fraternal life, and support from the laity, in order to exercise a fruitful ministry and overcome temptations of discouragement and mundanity.
Pierre had so much respect for the priesthood and deplored clericalism, recognising the dangers and risks it entailed. A married woman from the Community said: "He was so conscious of his own vocation as a lay person, which found complementarity with that of priests, that he was equipped to bear it when priests became confused in their own vocation. He had a concept of the vocation of the laity well before we had (Church) texts on the subject". A consecrated sister added: "Pierre had a great love for priests; he often repeated the capital importance of priests living in fraternal common life, to conserve real missionary dynamism, and avoid clericalism".
In this way, Pierre ignited the explosion of a great number of vocations and was the source of a new form of priestly life. Pierre Goursat was able to convince ecclesial authorities to elaborate on canonical statutes, unedited at that point in time, enabling diocesan priests to belong to an association of the lay faithful, alongside families and lay consecrated in celibacy for the kingdom. On the 8th of December 1982, the archbishop of Paris Msgr. Lustiger, approved simultaneously the statutes of the Missionary Fraternity of the Heart of Jesus (concerning priests and deacons), and those of the Emmanuel Community. In 1984 and 1985, the first priests for the Community were ordained in Paris. For Pierre, it was essential members of the Community could serve the universal Church together, as local Churches. He thought that by constituting parishes as living missionary poles we would reach a greater number of people, particularly those far from their faith.
Pierre rejoiced at the news of the first parish, the Church of the Trinity, being entrusted to priests of the Community, by the archbishop of Paris in 1986. He suspected many others would be entrusted to the Community after this, in France and across the world.
Pierre Goursat wanted the Community to be missionary, and community priests to have support from families and consecrated brothers and sisters, so that together, in the complementarity of our different states of life, we would be resolutely committed to serving the Church; the local and the universal Church.
In conclusion, I would like to highlight the fact that Pierre's intuitions can be found in essential points later raised by the Second Vatican Council:
-1) Equal dignity for all baptised (Lumen Gentium, chapter IV, n° 32-36), the participation of the laity in the priestly, prophetic and royal functions of Christ, as well as the specific mission of the lay in society and the Church.
-2) The call to holiness for all baptised and the link between holiness and mission (cf. chapter V of Lumen Gentium).
John-Paul II addresses the vocation of the lay faithful in his apostolic exhortation Christifideles laici, published 30th December 1988, specifying how their vocation "is not only to sanctify the world, but also to become holy in the world" (n°15).
-3) The direct and intimate line between "common priesthood", of the baptised (Lumen Gentium, chapter II), and "ministerial priesthood" which are "interrelated: each of them in its own special way" (n° 10).
To conclude, I would like to highlight how Pierre was prophetic in all that he undertook, and how this was thanks to the experience he accumulated over the long years preceding the Community, and all that he observed in the Church, just as much during times of crisis as in times of renewal. Pierre was a visionary and well ahead of his time. His pioneering work put into action the "theology of communion", preached at Vatican II, well before the Church understood its importance and started putting it into practice. It is clear to me, Pierre's vision of the Church, which was generated by his great love for her, explains his course of action and was at the heart of most of what he did.
—————
[1] Testimony given by Pierre Goursat, T2, July 1986.
[2] Testimony given by Pierre Goursat, T1b, 5th May 1977.
[3] Project of a letter to Fr. Caffarel, [February] 1972.
[4] John XXIII, radio-message Urbi & Orbi at Easter, 21st April 1962, cf. Vatican website.
[5] Emmanuel weekend, 25-26th October 1975.
[6] Exhortation on the Holy Spirit during the second session at Paray-le-Monial, 23rd July 1975.
[7] Letter to a young lady, 1972.
[8] Retreat with the Fraternity of Jesus, around Easter 1978.
[9] Interview, 23rd May 1976.
[10] Speaking during one of the first sessions at Paray-le-Monial, 23rd July 1975.
[11] Retreat with the Fraternity of Jesus, 30th December 1977.
[12] Reunion at Vézelay, July 1974.
[13] Second session at Paray-le-Monial, 23rd July 1975.
[14] Session at Paray-le-Monial, 5-6th July 1979.
[15] Esquisse du portrait de Pierre Goursat, Malines, 28th May 1992, Archives of the association FIAT.
[16] Session at Paray-le-Monial, 17th-22th July 1976.
[17] Cf. Le Renouveau et l'expérience séculaire de l'Église, Il est Vivant !, n° 28, May 1980, p. 3.
[18] Pierre Goursat's preparatory notes for a teaching.
[19] Il est Vivant!, n° 5, December 1975, 20-21.
[20] Session at Paray-le-Monial, 5-6th July 1979.
[21] Day for inter-prayer assemblies, 13th March 1976
[22] Community Weekend, 12th May 1979.
[23] Cf. Teaching during a community weekend, 12th May 1979.